Get Your First Copywriting Client with My 5-Step Formula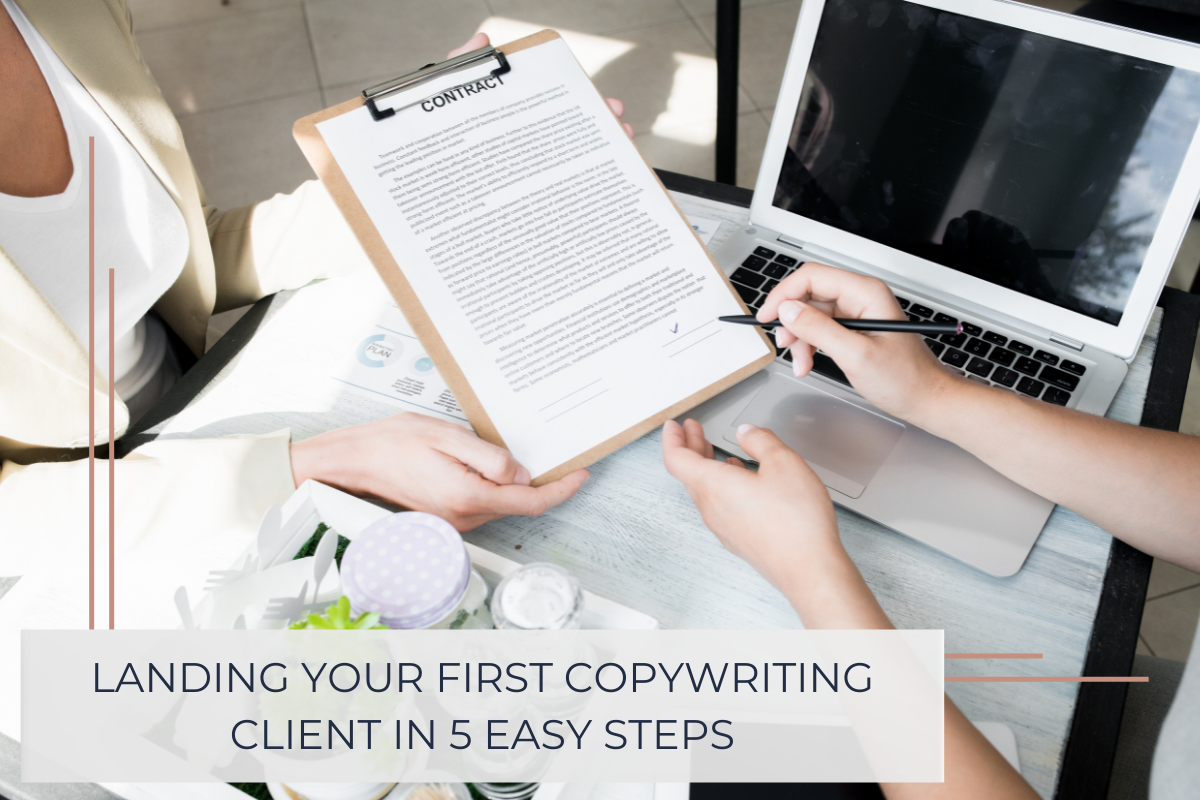 Landing Your First Copywriting Client With 5 Easy Steps. Note: When you purchase using links from my articles, I may earn a small commission. I do not accept money for sponsored posts. See my Affiliate Disclosure for more info.
Once you decide to become a freelance copywriter, you're on your way to your very own vision of "The Writer's Life." But how exactly do you land that all-important first copywriting client?
Depending on who you ask, you'll get a variety of answers– niches, and markets, and pitches, oh my! Without a crystal clear vision of what you want to do, it's enough to make your head spin. I should know– I spent over a year procrastinating on pursuing copywriting because I didn't understand how to get from Point A to Point B. 
In the end, 5 simple steps were all I needed to transform from an aspiring copywriter into a professional freelance copywriter. Read on to learn my formula– I encourage you to steal it and land your very first copywriting client! 
Here Are My 5 Easy Steps
I want to pause here to make an important point. 
You do not need any prior knowledge to start walking your path to The Writer's Life. Your niche, specialty, and clients will all flow naturally from these 5 steps. Let's dive in!
1. Get familiar with copywriting and content writing.
I'm thrilled that you've chosen to pursue copywriting! It's a fun and rewarding career– I finally love what I do every day. But first, you must understand the fundamentals of good copywriting and good content writing. 
Why? Because though businesses everywhere need our services now more than ever, you won't stand out unless you're clearly knowledgeable and passionate. You just can't land your first copywriting client without a solid foundation of how to write well.
Luckily, you don't need much to begin your education. You'll learn how to pick a niche or type of project to start with as you learn the secrets of copywriting. 
2. Learn to leverage LinkedIn.
You know how Facebook is the place to connect with friends and catch up on their lives? LinkedIn does that for professionals worldwide. 
LinkedIn has become so popular that it now has a thriving job marketplace. Every day, 124 million users communicate via LinkedIn–and that communication includes copywriting projects. 
By learning how to build a powerful and compelling LinkedIn profile that targets your potential clients, you unlock the ability to reverse-engineer your marketing. You'll custom-tailor your profile, articles, and messages to become irresistible to your prospects.
3. Start publishing articles and networking.
Once you've learned to leverage LinkedIn, you have to put it all into practice. Your knowledge won't do you any good unless you put it to work! 
Begin publishing articles and content targeted at the prospects you'll contact first. Use your prospects' specific niche to write engaging, relatable content. Publish this content at a regular cadence until you have 4 or 5 samples posted. 
Now that your profile and articles have been optimized for your prospects, it's time to reach out! Send connection requests with personalized notes to boost your chances of connecting with someone who could refer to your first copywriting client.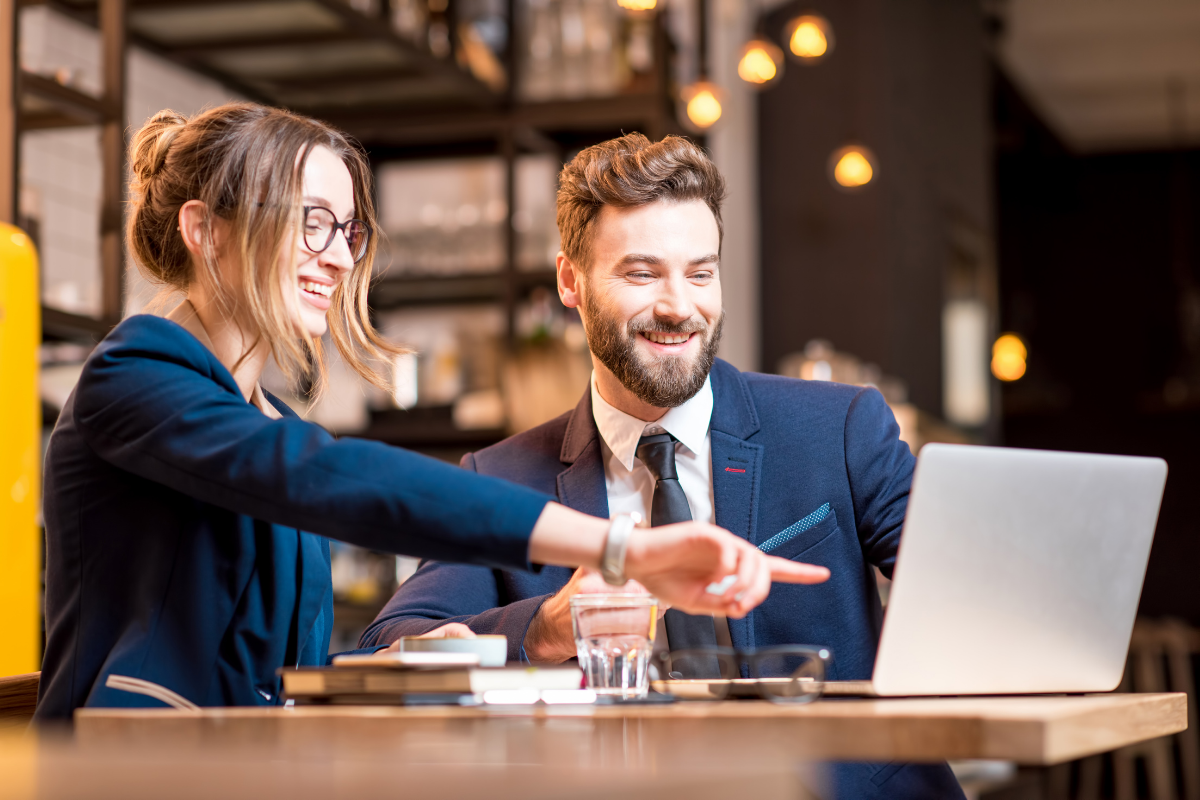 4. Use generosity as a marketing tool.
If you participate in Ilise Benun's 21 Day LinkedIn Challenge, you'll learn all the juicy details on using generosity as a marketing tool– and how to land your first client via LinkedIn. 
In a nutshell, you don't need to use "marketing bro" language or incessant messaging to get your first copywriting client. By allowing your kind and generous nature to shine, people will naturally be drawn to you. 
After I connected with some busy copywriters in my niche, I stayed in touch with them. I commented on their activity with valuable insight when I could. I posted engaging and informative articles to connect with my peers and show off my writing skills. 
Most importantly, I made it clear that I was available and eager to help. How? By personally messaging a few busy copywriters in my niche that had connected with me in Step 3. 
5. Stay disciplined and motivated– it's only a matter of time! 
Continue this process of growing your network, publishing valuable content that shows off your writing skills, and keeping in touch with busy copywriters in your niche. Keep in mind that you don't need to repeatedly ask them to refer you when they have too many clients. 
Because if they get to that point, they'll reach out. All you have to do is write every day, publish well-written articles relevant to your niche, and keep your prospects in mind. Maintain existing relationships and send connection requests when appropriate.
In a very short matter of time, you're likely to get a referral that leads to your first copywriting client.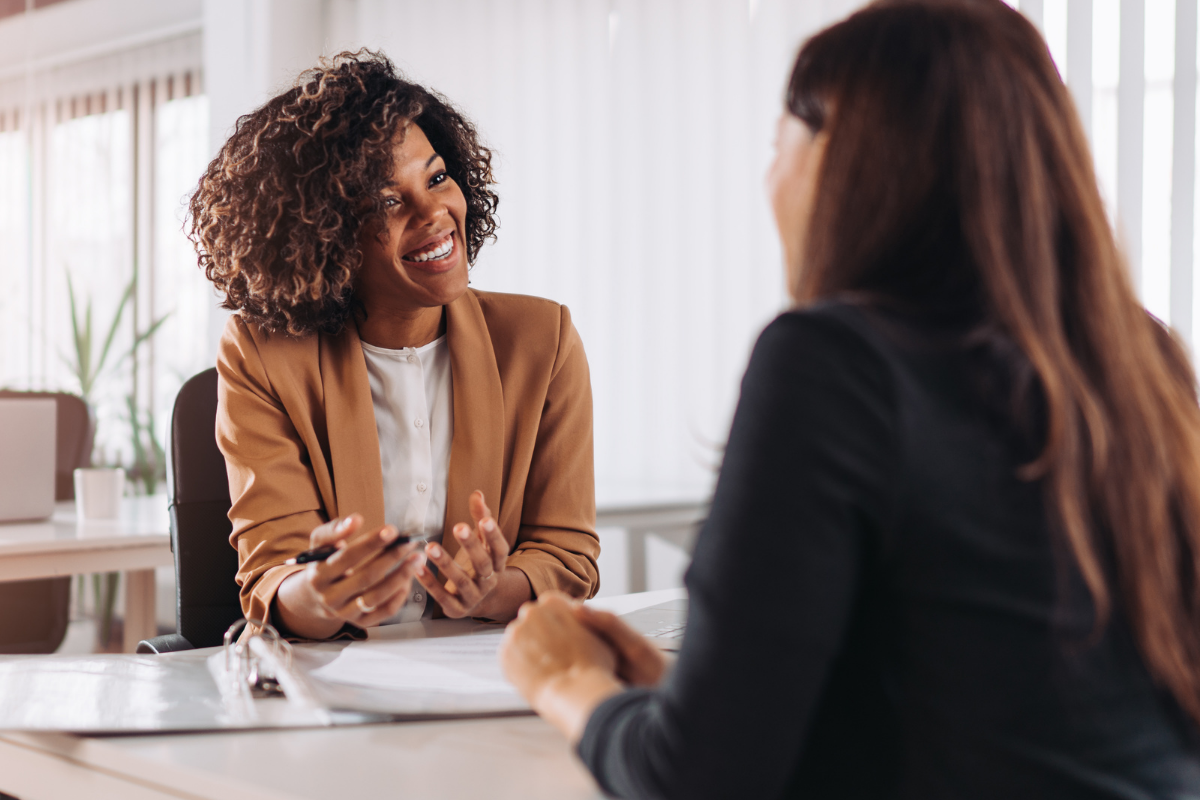 Can you imagine how good it'll feel to land your first copywriting client?
What if Your First Copywriting Client Was Less Than 10 Weeks Away?
I have a confession to make… and it's why I'm sharing my formula with you today. I got the inside scoop on the best training organization for copywriters from my dad. 
The week before I started my first copywriting class, my dad updated me on his successful freelance copywriting career– and how he got his first copywriting client thanks to training from AWAI.
He told me the AWAI Method for Becoming a Skilled, In-Demand Copywriter covered everything I would need to set me apart from the pack.
He also told me that AWAI now includes a 21-Day LinkedIn Challenge from the legendary mentor, Ilise Benun. After visiting AWAI's website myself, I was certain I could land my first client with 1 purchase: The AWAI Method for Becoming a Skilled, In-Demand Copywriter. 
On September 21, 2021, I started the very first lesson of the Method. On November 2, I submitted my final assignment for review… which became my first portfolio sample.
Then, I began Ilise's 21-Day Challenge. I posted the samples I wrote during the Method course to LinkedIn the way Ilise taught me, networked with big-name copywriters in my niche, and continued publishing samples. 
On November 29, 2021, a copywriter I'd connected with asked if I was interested in a referral from her. That same day, I began conversing with the person who would become my very first copywriting client. In less than 10 weeks, I'd gone from aspiring copywriter to professional freelance copywriter– thanks to the advice of my dad and 1 very smart purchase. 
Let me pay it forward and give you the same life-changing advice! You can use my 5-step formula to land your first copywriting client with any of AWAI's fabulous programs, of course. But I highly recommend you start your journey to The Writer's Life on the right foot by purchasing The AWAI Method.
Rooting for you,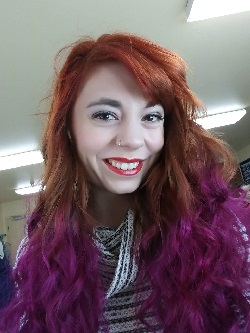 Shelby Dennis
Your freelance beauty copywriter and SEO content writer
---